Coastal Missions Society
Advancing the Gospel on the Coast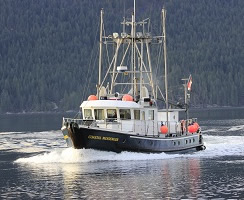 Coastal Missions is a Limited Corporate Society and a Registered Charity in Canada and United States since 1980
Constituted exclusively for the advancement of the Gospel on the coast
The 52-foot mission vessel Coastal Messenger operates year-round on the coasts of British Columbia, Washington, and Alaska
An office and mission base are maintained in Chemainus BC
All activity is charitable and non-commercial
Funding is derived without appeal
2016 Voyages
April is the beginning of a "year" for Coastal Missions. Between then and February 2017, the crews will visit people living on the west coast of Vancouver Island, SE Alaska, Haida Gwaii, mainland BC inlets, and the archapelago of islands between Vancouver Island and the mainland, and east Vancouver Island. The vessel will return only shortly to home port for the Christmas break.
Follow the Coastal Messenger schedule through the year either online with links to Google Maps or in print (PDF file).
OPEN BOAT
The vessel is in good working order and looking great after six weeks of routine maintenance. This year weeks of rainy weather made it possible for Tom and Debbe to refresh some interior paint. Brian and Stephen improved the hydraulic steering system. The last jobs were giving the boat a good clean and putting fresh provisions aboard. Now all we need is for you to come aboard and enjoy!
Below are directions to three OPEN BOAT locations (just like an open house but on a boat) and a few behind-the-scenes shots from this year's maintenance.
Nanaimo Open Boat - April 15 and 16
Nanaimo Harbour on the large floating breakwater accessed from Promenade Drive. 10 am to 8 pm. To contact the crew: 250-416-9291.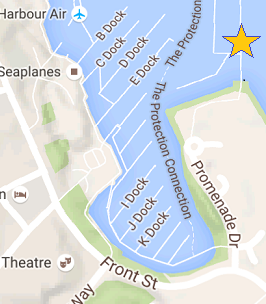 Genoa Bay Open Boat - April 18
You won't be able to miss our "big blue boat" in Genoa Bay. 10 am to 8 pm. To contact the crew: 250-416-9291.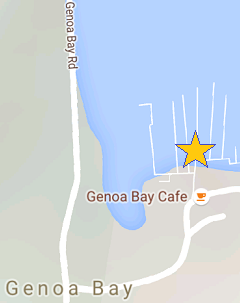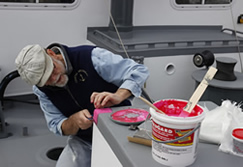 Victoria Open Boat - April 20 and 21
Downtown at the floats directly in front of the Empress. 10 am - 8 pm. To contact the crew: 250-416-9291.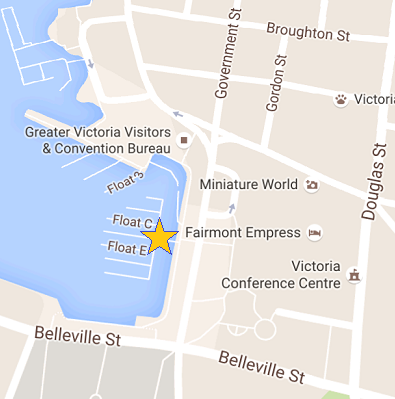 More News - Bible Study in May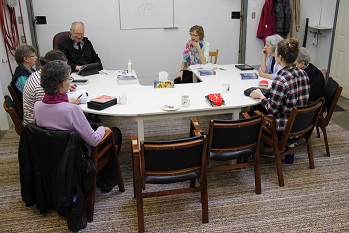 Coastal Missions will host a week of Bible studies at the mission base in Chemainus from May 16-20. Frank Getman will teach. With a lifetime of experience and learning he's a great one to answer questions too. Not to mention he's Petunia's new husband!
There will be morning and afternoon Bible sessions, interspersed with the fun of sharing meals at the mission table and music in the living room. If you are interested, contact the office for more details or to save your spot.
Wedding Photos
Frank and Petunia Getman happily celebrated their marriage with 350 friends on April 2. Thank you to everyone who attended and sent congratulations. It had the flavour of a big Coastal Missions reunion. The bride and groom had big smiles, and so did the rest!
Keep in Touch with Our News
Lots is happening at Coastal Missions. We write a newsletter a few times a year. If you would like to receive our news by email subscribe here.