Coastal Missions Society
Advancing the Gospel on the Coast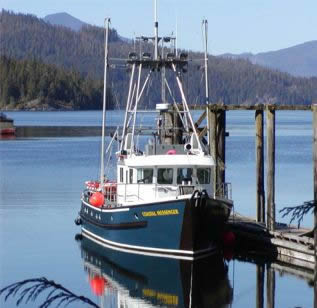 Coastal Missions is a registered charity in Canada and United States since 1980
We are a non-denominational mission funded by faith without appeal
We operate a 52-foot mission vessel Coastal Messenger year-round on the coasts of British Columbia, Washington, and Alaska
On Schedule!
2015 is a huge and rewarding year of ministry. The Blue Crew travelled a week earlier to Alaska, which gave even better opportunity to visit ones associated with commercial fishing. Crew member Sarah-C said, "This is the best yet of my four summers in Alaska."
The Blue Crew turned over the vessel to the next crew in Prince Rupert as scheduled; the Gold Crew continued good ministry. Brian's back (skipper of the Gold Crew) was bothering him in July and got worse over passing days. The vessel continued on schedule but then returned to Prince Rupert where medical assessment concluded that although painful there is no concern beyond a bad back. Brian has rested and the vessel is again on schedule and the crew is reporting excellent ministry.
Follow the crew as they move down the BC Coast with the Coastal Messenger schedule.