Coastal Missions Society
Advancing the Gospel on the Coast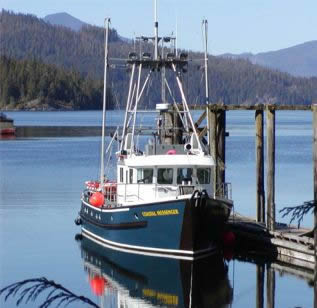 Coastal Missions is a registered charity in Canada and United States since 1980
We are a non-denominational mission funded by faith without appeal
We operate a 52-foot mission vessel Coastal Messenger year-round on the coasts of British Columbia, Washington, and Alaska
Fall Voyage
The Blue Crew is excited to be aboard for the six-week fall voyage, starting in Port McNeill on September 11 and ending in Campbell River on October 23.
Follow us on our schedule: Coastal Messenger schedule.
Or look for us on AIS (Automatic Identification System), though we will be in many remote areas where the signal cannot be picked up from land.
Fall Newsletter
Enjoy Uncle Roy's most recent Superintendent Letter: September 2015 Letter.
Summer 2015 Update
2015 is a huge and rewarding year of ministry. The Blue Crew travelled a week earlier to Alaska, which gave even better opportunity to visit ones associated with commercial fishing. Crew member Sarah-C said, "This is the best yet of my four summers in Alaska."
The Blue Crew turned over the vessel to the next crew in Prince Rupert as scheduled; the Gold Crew continued good ministry. Brian's back (skipper of the Gold Crew) was bothering him in July and got worse over passing days. The vessel continued on schedule but then returned to Prince Rupert where medical assessment concluded that although painful there is no concern beyond a bad back. Brian has rested and the vessel is again on schedule and the crew is reporting excellent ministry.