Coastal Missions Society
Advancing the Gospel on the Coast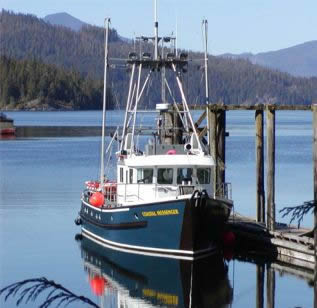 Coastal Missions is a Limited Corporate Society and a Registered Charity in Canada and United States since 1980
Constituted exclusively for the advancement of the Gospel on the coast
The 52-foot mission vessel Coastal Messenger operates year-round on the coasts of British Columbia, Washington, and Alaska
An office and mission base are maintained in Chemainus BC
All activity is charitable and non-commercial
Funding is derived without appeal
Coastal Missions in Vancouver January 29-31
Come see us at Missions Fest Vancouver BC Booth C10.
Uncle Roy is giving us a sneak preview here of his design. Just a few more details to be fully ready.
Vancouver Convention Centre - East Building in Downtown Vancouver - see the map here. Enter through the lobby doors to the west of the Pan Pacific Hotel entrance.
Friday, January 29 - 12pm-10pm
Saturday, January 30 - 9am-10pm
Sunday, January 31 - 10am-5pm
Coastal Missions at Booth C10 in Exhibition Hall B.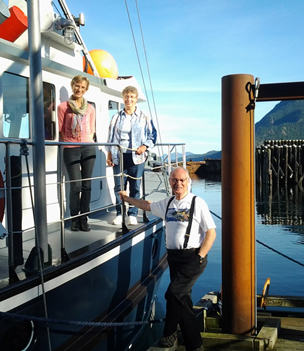 2016 Vessel Schedule
Follow the Coastal Messenger schedule through the year either online or in print.
Online Vessel Schedule - follow the links on our website to see places on Google Maps and find out details about which crew is aboard.
PDF Vessel Schedule - save or print for handy reference.
Look for the Coastal Messenger in real time on AIS (Automatic Identification System) following these steps:
Open the Siitech website: Siitech
Click the Guest Login button
Type Coastal Messenger in the Search bar (upper right)
Click the Find button
January Newsletter
Lots is happening at Coastal Missions. 2015 was big and full. 2016 is even more exciting with voyages starting in the San Juans and Puget Sound, Missions Fest, Bible Studies, and a Wedding Celebration. Catch all the details in our most recent newsletter.
Subscribe to receive future quarterly newsletters by email.
February Bible Study
Basic Bible study weeks for our coastal friends will be held at the Mission Base (not on the Coastal Messenger) in Chemainus in February, May, August, and November—free of charge.
Simple and practical lessons will be shared by team members.
Seats are limited—reserve through the Coastal Missions office contact@coastalmissions.ca or (250) 246-3377
First week is February 15-19
Arrive for dinner 5:30 pm Monday night, leave after dinner Friday
Lunches and dinners will be shared with the mission team
Arrange your own accommodation and breakfast—pitch your tent or park your RV in the yard, book a hotel or B&B, or anchor your boat out front—GPS 48° 56.375' N by 123° 44.085' W
April Wedding Bells
Once upon a time, there was a very dedicated coastal missionary named Petunia. And once upon the same time, there was a man named Frank Getman.
He greatly admired his brother Roy Getman and Coastal Missions.
Frank's admiration grew for the cute crew member named Petunia. He surprised her by proposing in September.
She said yes.
Not wanting to waste any time, the happy couple was wed on November 6, 2015.
They will celebrate their marriage with a Canadian Wedding Celebration in April 2016.
Looking Back on a Great Big 2015
The vessel travelled 2724.5 nautical miles, with 384.6 engine hours. The GPS odometer reads at total of 51353.2 nautical miles since 1998.
1 vessel in excellent condition
10 missionaries working fulltime
235 days away from home port
107 ports of call in two countries
Hundreds of cups of coffee and conversations
Countless lives touched
During the weeks before Christmas we delivered 140 cookie plates to businesses. We appreciate their good service. They appreciate a personal thank you.
One of our coastal friends used his drone to take some photos of the Coastal Messenger underway - thanks Ken Beaubien for sharing this beautiful photo with us.