Coastal Missions Society
Chapter Three
2015 was another big and busy year. It started with an enormous clean-up at the Base, shop, and office.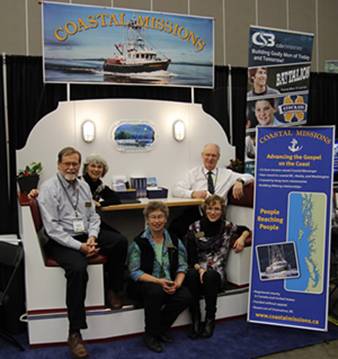 A special edition desktop calendar was prepared and mailed out. Perhaps inspired by that mailing, Western Mariner magazine ran an article about Coastal Messenger that included its 235-day schedule out and away from home.

In 2016, Roy Getman designed a portable galley display. With Brian Burkholder and Tom Maxie's building and painting skills, it came out looking and feeling much like sitting at the galley table on Coastal Messenger. It became Coastal Missions "booth" at Missions Fest Vancouver, Missions Fest Seattle, and several other engagements.

Petunia and Frank Getman's marriage was celebrated in Duncan, BC, on April 2. It was like a coastal reunion with a few hundred friends from near and far. After a short honeymoon, the couple settled in at the Mission Base.


Frank was an asset. The first half of his life was marine, mechanical, and managerial. He slowly moved in the direction of theology and Christian ministry—a real asset at this stage in the life of Coastal Missions. Four Bible study weeks were held at the Base. Sessions were in the shop in cooler months and often outside on the lawn in warmer ones.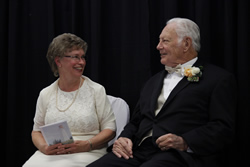 The mission vessel carried on through 2017. This was Roy's last year skippering. He, then age 77, continued heading administration until that role was taken over by Chet McArthur the following year.

Keeping in touch by mail had steadily grown over the decades. Contact had been maintained with people that had encouraged, prayed, and supported the work through the years. It also included ones who had moved from a remote setting into a town. Therefore, planning for 2018 made provision for stationing Coastal Messenger in suitable places and using a vehicle to reach out.

Coastal Messenger left Ladysmith on January 18, with Brian and Tom, crossed to Vancouver, and secured at Coal Harbour Marina within walking distance of Canada Place. Debbie arrived by vehicle. For the next week, Tom and Debbie remained and used Coastal Messenger as "home" and visited by car. Coastal Missions then took part in Missions Fest, January 26—28, while the ship remained moored.

Brian and Tom carried on with the vessel to places in Puget Sound; Petunia and Debbie met up with them by car. This "by land and sea" approach continued as far as Tacoma over the following weeks.

The property lease at Port Neville ended March 31 that year. Those five years of ministry were celebrated at a gathering in Campbell River the next day. The event included loggers, commercial fishermen, boaters, friends old and new, and the handful of those that lived at Port Neville. Present also were about thirty from four generations of the Hansen family—descendants of Hans Hansen that had settled there in 1891.

After Coastal Messenger's annual maintenance period, the vessel carried on to Genoa Bay. It remained a platform for ministry beginning April 12.

Captain Morgan's impressive lodge is at Genoa Bay. Its gracious owner, Shirley Berg, and people from the Mill Bay Church had started an annual tradition of honouring Coastal Missions at that time each year. The gathering always included a BBQ supper. So, of course, all of the Coastal Missions people were there for the occasion on April 19.


Coastal Messenger continued from there to places on the east side of Vancouver Island, up the British Columbia coast to Klemtu, down the west coast of Vancouver Island, and into the Gulf and San Juan Islands. The platform approach was used in Port McNeill, Port Hardy, Port Alberni, and Victoria. All the workers took part that year as crew and/or in platform ministry.


2019 planning again emphasized visiting, follow-up, and encouraging ones known through the years. Coastal Messenger traveled as far as Klemtu, then down the west coast of Vancouver Island, and places south, including the San Juan Islands.
Frank and Petunia made a land trip into Washington and Oregon in May. And Coastal Missions people attended Missions Fest Seattle in October.

Carrying out plans can, at times, be challenging. Skipper Brian Burkholder postponed vessel departure from Bellingham due to arctic outflow winds and the threat of freezing spray. The ship then continued with stops at various places. In Olympia, heavy snowfall had the city at a near standstill.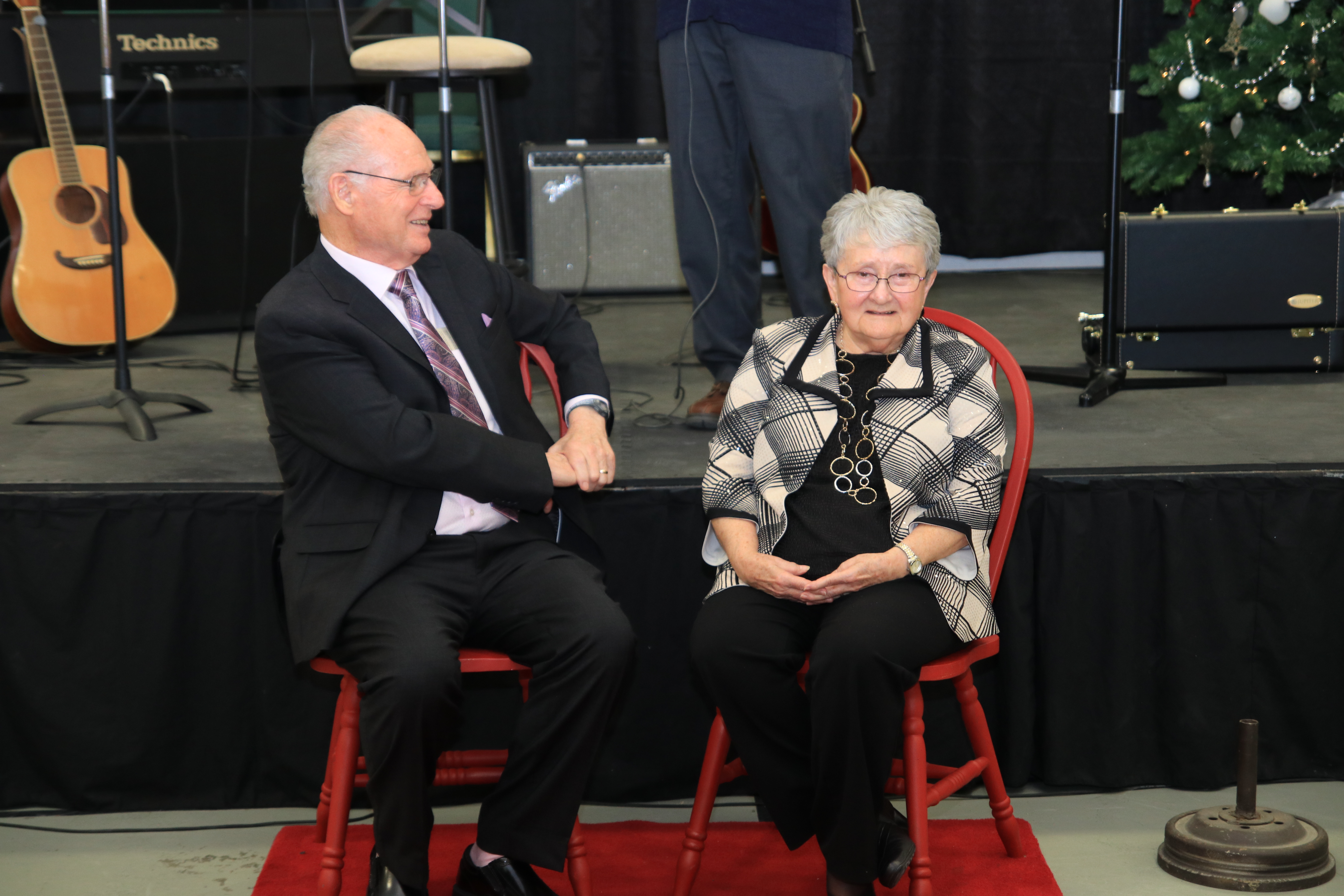 Approximately 235 gathered to celebrate Roy and Rachel Getman in November—this was the year they both turned 80, were married 60 years, and had lived in Canada for 50. Guests and several relatives came from great distances.

Volunteers actively participated in 2019 as in other years. One was Joe Huizinga; this was his 20th year as a one-day-a-week regular. He was willing and able to do most anything.

We also had a very different type of volunteer—a gal from Switzerland who came to Canada in late October—a professional-level baker and dessert maker. The timing was perfect for helping with the big November celebration. She stayed long enough to help with cookie baking; Coastal Missions traditionally distributes cookies to surrounding businesses approaching Christmas each year.

The year 202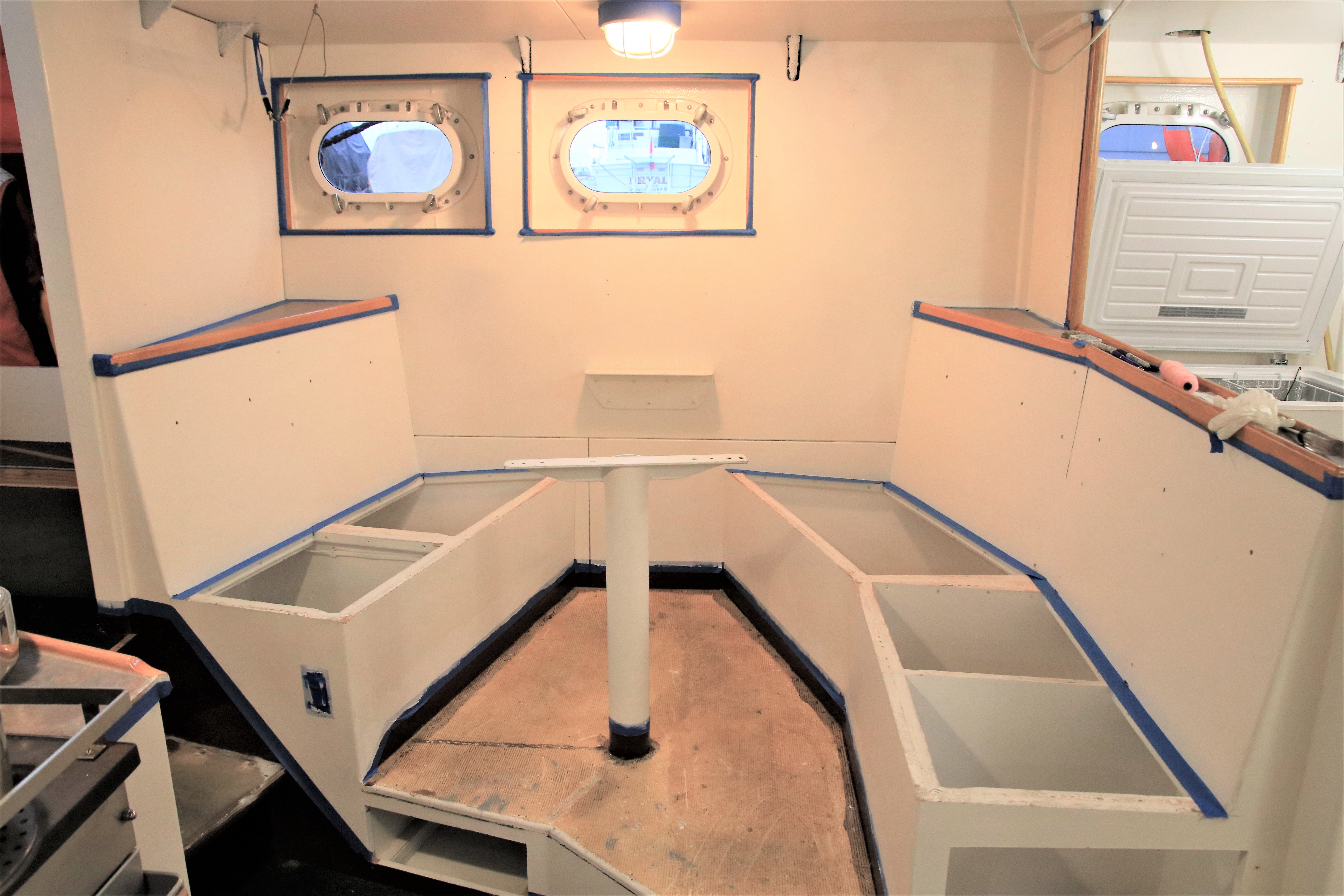 0 started with big expectations. Almost everything that could be was removed from Coastal Messenger. This was the start of bringing the vessel up to top standard after twenty years of rigorous service. Every crack and cranny was cleaned, all interior areas were painted, new Formica went on countertops, oak trim was refinished, and new carpets went in. Coastal Messenger was ready—ready to be loaded—and GO.

And then COVID!

Plans for vessel travel, platform ministry, vehicle visiting, and elaborate arrangements for a big Coastal Missions 40 YEARS of ministry event were put on hold.

The well-kept Coastal Messenger remained a beacon of Christian testimony tied at its place at the Ladysmith Maritime Society. The one in charge of moorage said the craft received more attention than any other, "by far," he added.

Coastal Missions continued follow-up by postal and electronic mail and other means on a bigger-than-ever scale.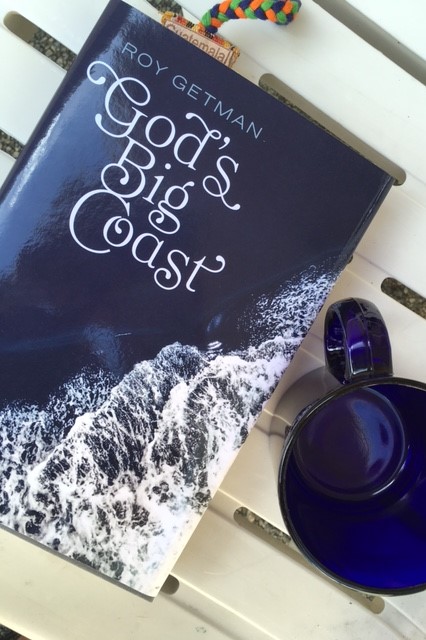 Roy's book, God's Big Coast, was published in March by Friesen Press in Victoria. Cross-border travel, second vaccine shots, use of volunteers, and other iffy considerations made it difficult for Coastal Missions to make concrete plans.
Brian and Anne took time from their regular work to attend to Anne's dying sister Joan in Burnaby. She died of pancreatic cancer on May 22, 2021.

Restrictions began to relax to some degree in that year. Yet, while much remained in flux, Coastal Messenger set out on September 13, to visit places as far north as Prince Rupert.
It was a rewarding voyage with many meaningful visits. Brian, Tom, and Debbie were aboard and were joined by Judy Hewitt for some of that time. Judy had grown up in various coastal settings when her father was a teacher. She had also gone through missionary training at Pachena Bay near Bamfield like the others. So, she fit right in and was immediately accepted everwhere the vessel went, and especially in village settings.
Coastal Messenger was out again on October 23. This time for committal of ashes—a most meaningful service conducted for the widely and affectionately known Captain Brian Silvester.
In December, dozens and dozens of fresh-baked cookie plates, brightly wrapped, were delivered to businesses far and wide as in former years. Deliveries were met by delighted, happy, appreciating faces.
Changing subjects, Tom's brother died in California on December 27. Petunia's husband (and Roy's brother) Frank died on December 28 after monthis in hospital in Duncan.
The year 2022-A service was held in memory of Frank on April 2. Tom and Debbie left the next day to conduct a service for Bob Maxie in California. They remained long enough to attend various finalizing details. They were back and actively engaged when Coastal Messenger was drydocked for yearly checks and regular maintenance on April 26.
Meanwhile, behind the scene, Coastal Missions Society administrators were involved in the many steps necessary to seamlessly pass on the ministry to new leadership, headed by Catherine Buschhaus, under the umbrella of the International Messengers Canada Society (IMCS).

Read more of the Coastal Missions story: