Coastal Missions Society
Vessel Coastal Messenger
2021 Vessel Schedule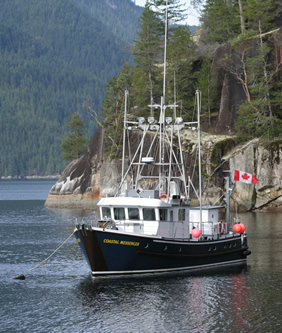 The Coastal Messenger will be away from home port on missionary voyages from January 28 to December 05 except for annual maintenance between February 20 to April 08.
See the 2021 Vessel Schedule.
Design
The mission vessel Coastal Messenger is a fully original design by Roy Getman, Coastal Missions Society. Design standards are equivalent to the American Bureau of Shipping. Design checks and stability and hydrostatic studies were conducted by Robert B. Harris, Naval Architect, Vancouver.
Length overall 52 feet
Beam 15 feet
Draft 6 feet 4 inches
Crane lift weight around 90,000 pounds
Integral welded hull, bulkheads, and decks are steel
Pilothouse and mast are aluminum
Construction
Coastal Missions workers and persons hired or contracted under supervision by Coastal Missions built the vessel without certification. Hull fabrication took place at Jenkins Marine, Victoria, BC. Joshua Enterprise in Calgary, Alberta built the pilothouse. Other fabrications and constructions were done at the Coastal Missions shop in Chemainus. The final assembly took place in Victoria.
The completed ship launched at Esquimalt Department of National Defense facilities September 10, 1998. She was commissioned into missionary service April 3, 1999.
If you are interested in the whole story, enjoy reading the 1994-1998 Vessel Construction.
Operation
The Coastal Messenger operates under the By Laws of the Coastal Missions Society, a Limited Corporate Society in British Columbia, and a charity in Canada and the United States since 1980.
Vessel activities are fully charitable and non-commercial - she is not leased, hired, or chartered for passengers or freight.
Crew
The Coastal Messenger is crewed by missionaries in scheduled Christian outreach ministry.
The Coastal Messenger is skippered by Brian Burkholder and crewed by any combination of Anne Burkholder, Tom Maxie, Debbie Maxie.