Coastal Missions Society
Chapter Two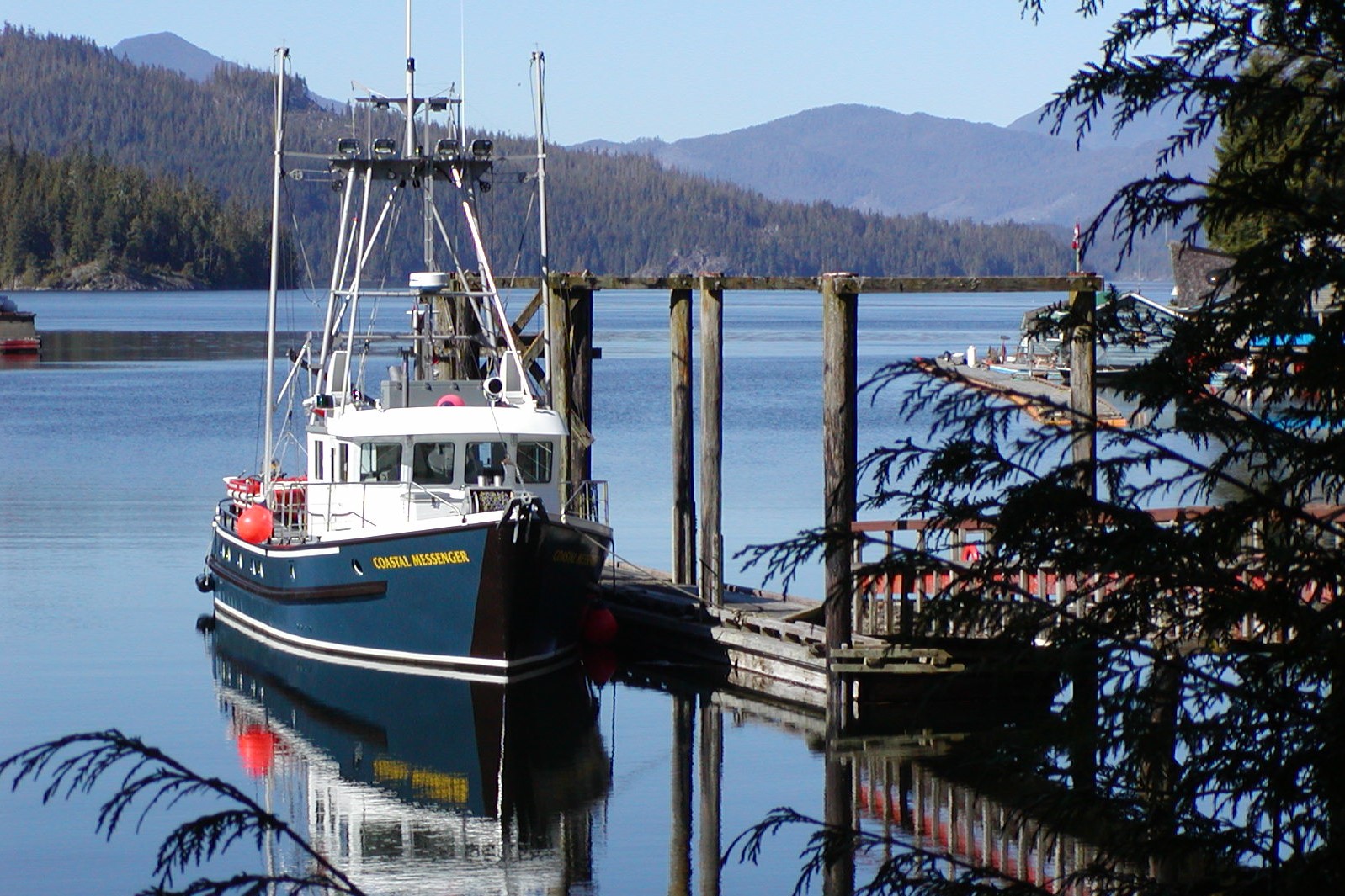 1999 was the first fully scheduled year for the steel Coastal Messenger. It left home on January 13. Systems had been thoroughly checked during trial runs after launching in late 1998. But this time, they were doubly checked by actual use and by harsh and continual winter storms.

In late February, the vessel returned home, then headed to Vancouver and on to Victoria's inner harbour in time for a most colourful commissioning service on April 3. Hundreds were present. She was then off on her first big circuit the remaining months of the year.

Not all was smooth sailing. Relentless westerlies at Cape Chacon forced a change in the schedule during the Alaska trip. Fierce winds caused another alteration from the plan during the offshore Haida Gwaii voyage. And a fuel pump malfunction forced landing at a private lodge at Stuart Island in October. Understanding staff provided free air flight for the needed part. The problem was then fixed in minutes.

All added, crew changes included, the vessel traveled 3,850 nautical miles that year. Close to 2,000 persons signed its guest book.

Meanwhile, plenty was happening at home. Storms had caused severe erosion of the Base beachfront in January and February. A machine was brought in to help make the repair. The Base dwelling got a new roof during that year.
Coastal Messenger began its second big circuit on January 12, 2000, and completed it on December 9, having traveled south to Olympia, Washington, and as far north as Sumner Strait, Alaska, and to the west coast of Prince of Wales Island. This scheduling became more or less typical over the next many years.
While one crew was away on the vessel, the other was always busy with things on the homefront. This meant working on projects with volunteers, welcoming visitors, keeping up with office and daily business demands, various engagements, and hospital and other visits.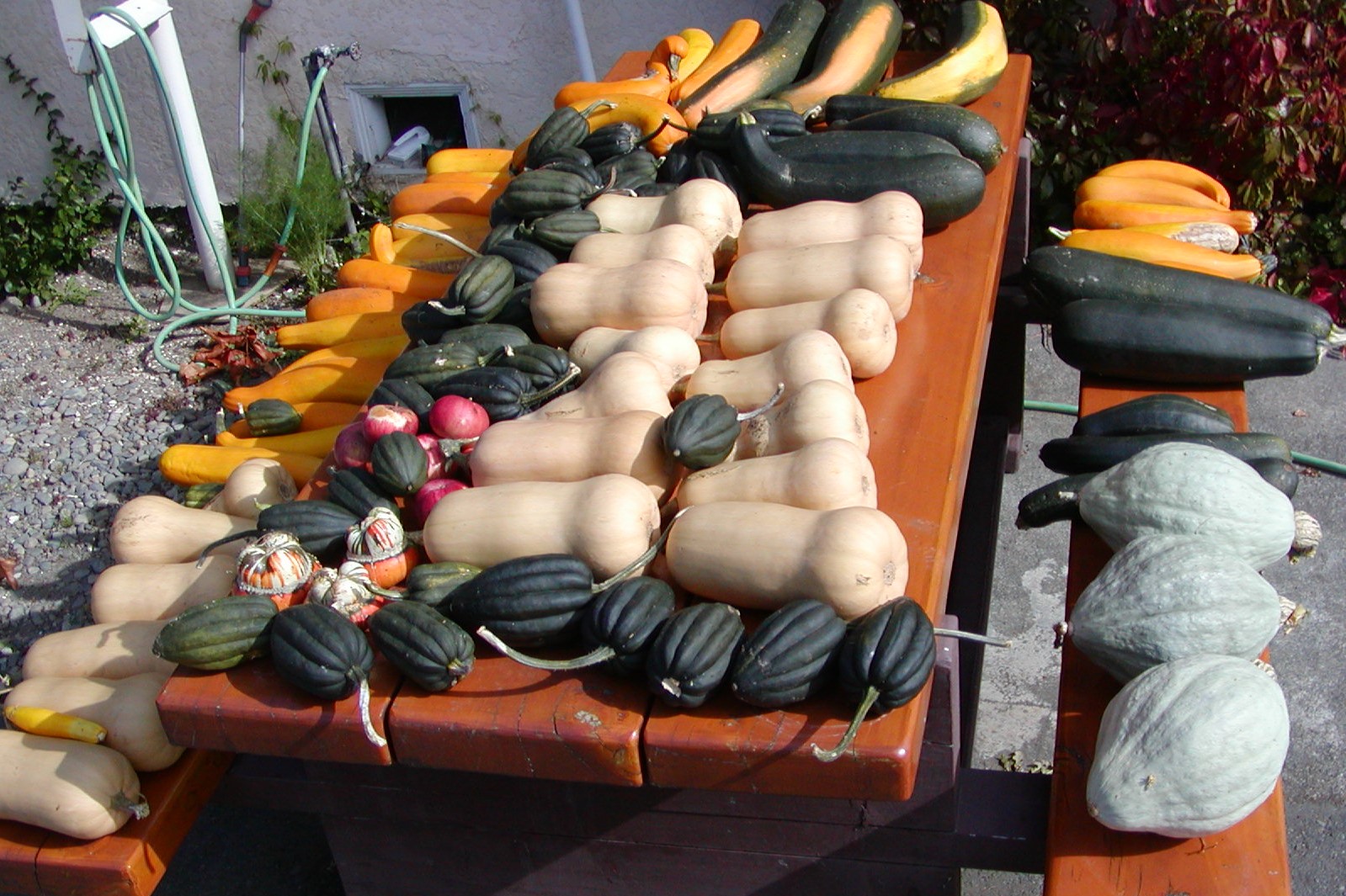 A large garden was always grown. Produce was eaten fresh, canned, preserved, or packaged and frozen to go on the vessel at the time of crew changes. These food processing efforts put good food on the table and immensely helped costs. Friends of the mission also shared generously from the abundance of their gardens.

Coastal Messenger's schedule was handled slightly differently in 2001. Brian and Anne used a vehicle when the vessel was in Prince Rupert to reach out to those by then living inland. Meanwhile, Tom and Debbie traveled by car and ferry to Haida Gwaii (Queen Charlotte Islands). This added "by land" approach allowed contact with ones who, in some cases, had not been seen for a long time.

The ship's circuit was interrupted by the September 11 terrorist attack on New York's Twin Towers. Things were again put on hold just before Ron McKee died on October 28 from a life-long lung defect (idiopathic pulmonary fibrosis). His funeral service on November 3 was a glorious tribute to one who had nobly served.

Coastal Messenger did not go into Washington in January and February 2002 as in previous years because of uncertainties associated with 9/11. Instead, she proceeded to Victoria. There, the ship became a platform for ministry over the following weeks using a vehicle to visit, in many cases, elderly ones who had long supported the work of Coastal Missions.

Yearly haul-out and maintenance were carried out in March. The ship then continued through the remaining year.

Base renovations had gone on a little at a time for several years. A new kitchen and dining area were completed in 2002, and a handy porch was added just outside.

In 2003, most weather was gentle, thus making sea travels easy. But not all. During part of October, the barometer was up and down, and winds were sometimes at storm and hurricane force. Rains, at times, were torrential. Tides and currents were thrown off predicted times. Masses of needles, leaves, limbs and whole trees choked some channels in the aftermath of tremendous flooding in rivers and streams. Even so, it proved to be a good year of ministry on every front by sea and by land.

All mission endeavours continued on schedule in 2004. At the mission Base, there were many visitors—whole groups in some cases. Grounds and flower gardens were beautifully kept. Vegetable garden produce was plentiful despite hot weather and a long dry spell.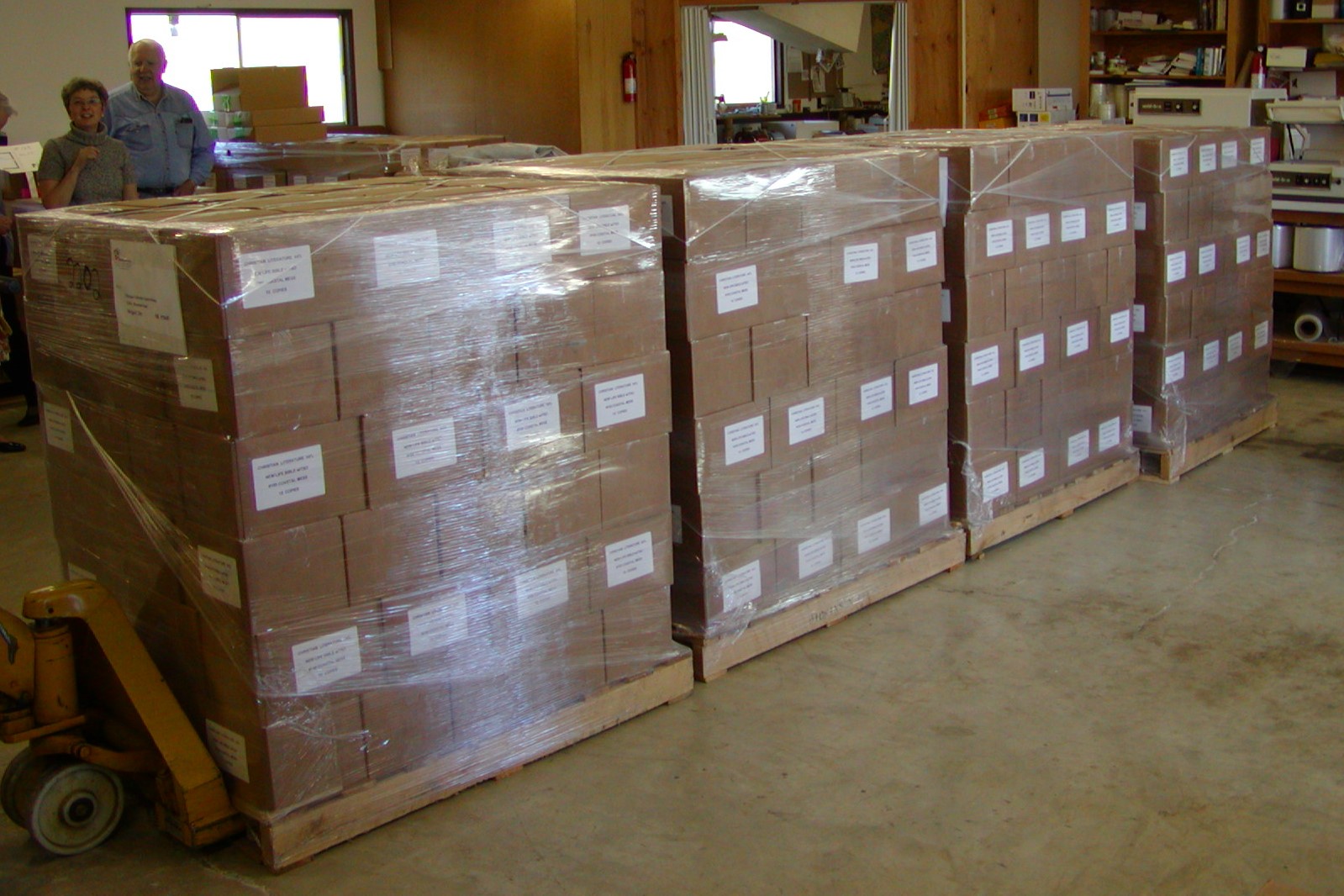 In late October, the directors approved the purchase of 5,000 copies of the easy-to-read Compass edition of the New Life Bible. The picture on its predominantly blue cover was a crisp, clear photo of Coastal Messenger in Stuart Channel taken by local photographer Kris Kann.

Mail always played a big part in the ongoing ministry. Cards and letters went to individuals, churches, and groups. In remote areas, not everyone has a phone or means of electronic communication. But, everyone has a postal connection somewhere.

2005 was Coastal Missions Society's 25th year. In April, more than 200 persons were hosted at a weekend anniversary celebration at Camp Imadene. In addition, more than five hundred people visited Coastal Messenger during Open Boats in four different ports in April and May. The ship then re-enacted the circuit taken by the first Coastal Messenger twenty-five years earlier.

Land trips were also re-enacted all the way to Oregon. In addition, there were special gatherings with potluck dinners in Port McNeill, Ketchikan, Prince Rupert, and Bamfield. Compass Bibles were given away everywhere workers went.

In 2005, Chet and Teresa McArthur, who had both been part of things in Pachena days, moved to Chemainus and began pitching in. They remained fully involved for the next many years. Chet was handy at most anything, and Teresa most ably served at the Base or office.

A decision was made to replace Coastal Messenger's dear old Rolls Royce marine diesel engine at year's end 2005. It had served twenty-seven years in the old boat and seven more in the new one. It was still in running condition when mounted on its stand and given to the Blackstaffe Heritage Museum in Ladysmith.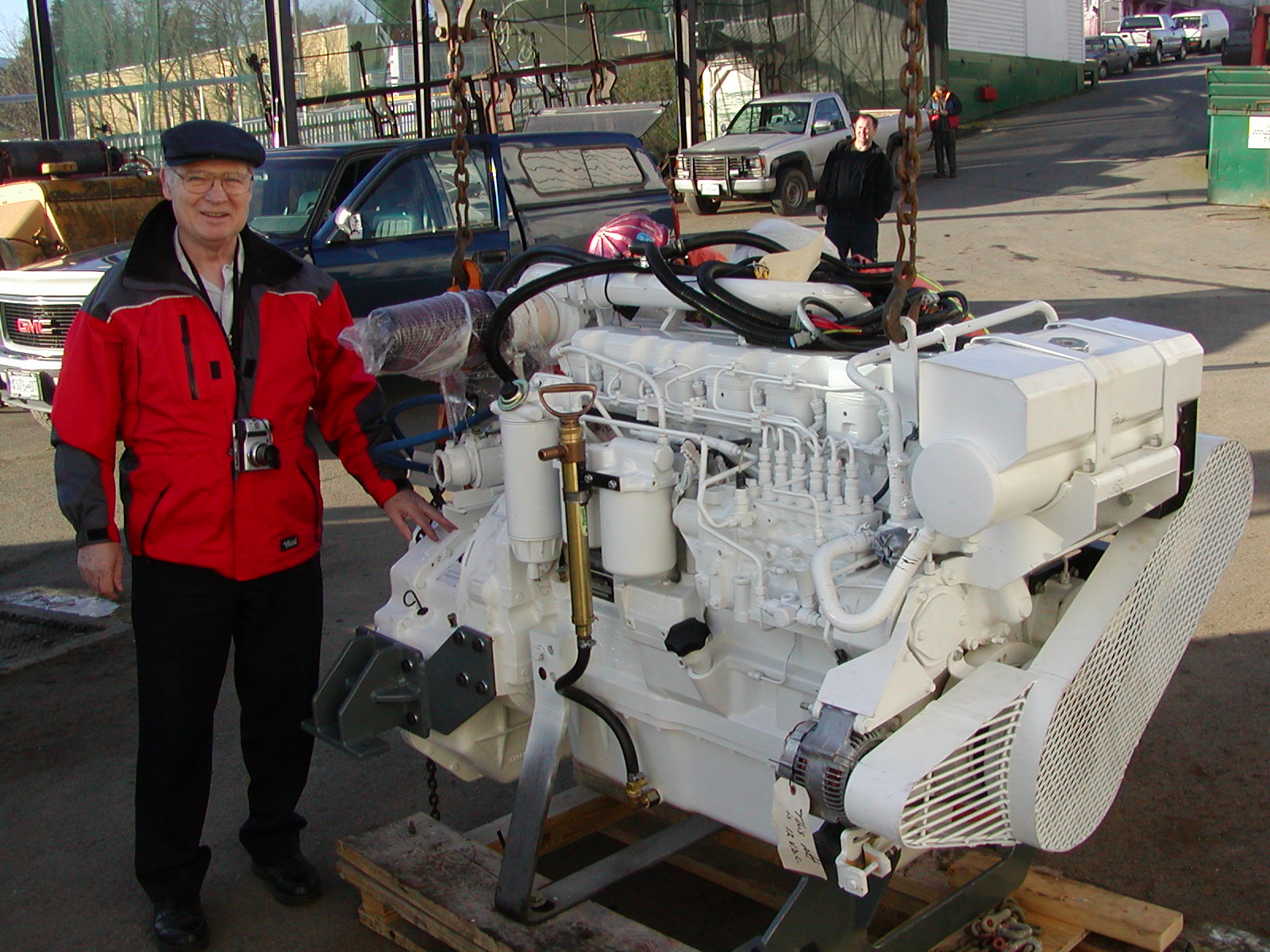 The ship was re-powered in the early months of 2006 with a new gleaming white John Deere marine diesel engine and ZF reversing gear. She left Chemainus on May 27 after sea trials and continued on its circuit. There was snow, horrendous winds, and terrible rains that November and December. But missionary visits were excellent, and the vessel and her crews were always safe as she completed that year.

There were some challenges in 2007. Coastal Messenger broke ice getting into Oak Harbor in January. Dense fog prevented departure from Tacoma in February, and hurricane-force winds resulted in a delay in November. Both crews noticed that significant visits occurred when thrown off schedule. Such was the case during the fall Inlets North voyage when Uncle Roy underwent extensive medical tests and observation in Port McNeill. Many who would have been visited in surrounding areas came in their own boats to see him and his crew. This was by far the longest the vessel ever stayed in one place with a crew aboard.

Specific records were kept (in some cases required of charitable organizations). With Coastal Messenger, sea time slips showed an average of 121 days out and away from homeport for each missionary that served. 674 visitors were given refreshments, and 363 guests had meals aboard. 115 cookie plates were given to fishermen, fuel dock employees, harbour managers, and marina operators. No detailed record was kept of the many loaves of bread, the several hundred jars of jams, or the many Bibles that were given.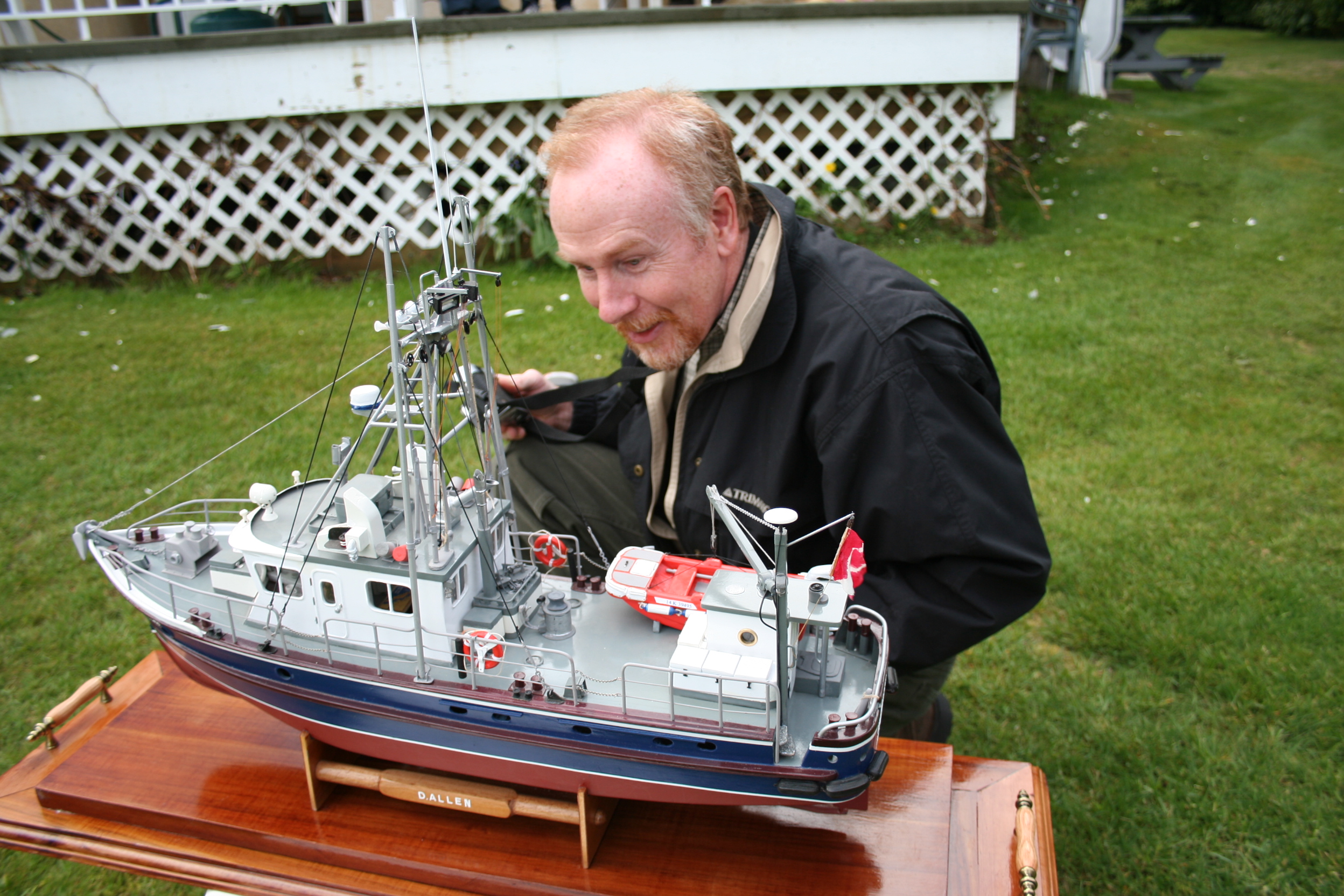 Many newspaper and magazine articles have been written about the work of Coastal Missions. In February 2007, Professional Mariner magazine, a far-reaching journal of the maritime industry, carried a notedly well-written article by Darrell Ohs entitled Coastal Messenger.

Quoting from the article, it reads, Capt. Roy Getman grabbed a table napkin and pulled a pen from his shirt pocket. He scattered a series of dots and drew various-sized circles around each.

"These dots represent a Christian influence, most likely a church," Getman explained. "And the circles are the spheres of its outreach."Some of the circles touched or overlapped. But there was also lots of space that did not fall within any of them. "Our primary mission is to reach the areas and people outside of the circles," he said.

The Victoria Times Colonist newspaper also carried a well-written article by Susan Downs that included a photo of a model of Coastal Messenger. That model, crafted by Doug Allen of Cobble Hill, BC, won first prize in the Workboat Class and first prize as the modellers' choice at the Mid-Vancouver Island Marine Modelers' boat show in Nanaimo.

The Coastal Missions Base was a hub of activity in 2007. Canning of salmon, tuna, chicken, beef, and all sorts of things from a productive garden continued nearly every working day in August and early September. Corn and many other things were vacuum-sealed and frozen. One grape vine alone yielded 76 quarts of purple juice.

Many volunteers added to the blessing. With the help of family, one lady continued to provide small jars of homemade jam to be given out as gifts from the vessel—something she had done for more than 25 years.

Board business that year included approval for printing another 5,000 Compass Bibles since most of the 5,000 ordered in 2004 had been given away.

In February 2008, Coastal Missions received an email from a young lady, Catherine Buschhaus, desiring to help in the garden for a week in July. She was given a positive reply so, of course, she came for those few days. However, that was only a taste. When free to do so, she returned and served full-time for the next seven years!  

She was an outstanding example of one that contributed to the work and outreach of Coastal Missions. There were many through the years, far too many to name here. Some came for a one-time project, others to pitch in at the Base one day each week. Some became part of the missionary force for a time.
Behind the scene, groups, churches, and countless individuals encouraged and prayed, and supported financially. Donations often came from the very ones Coastal Missions had reached out to.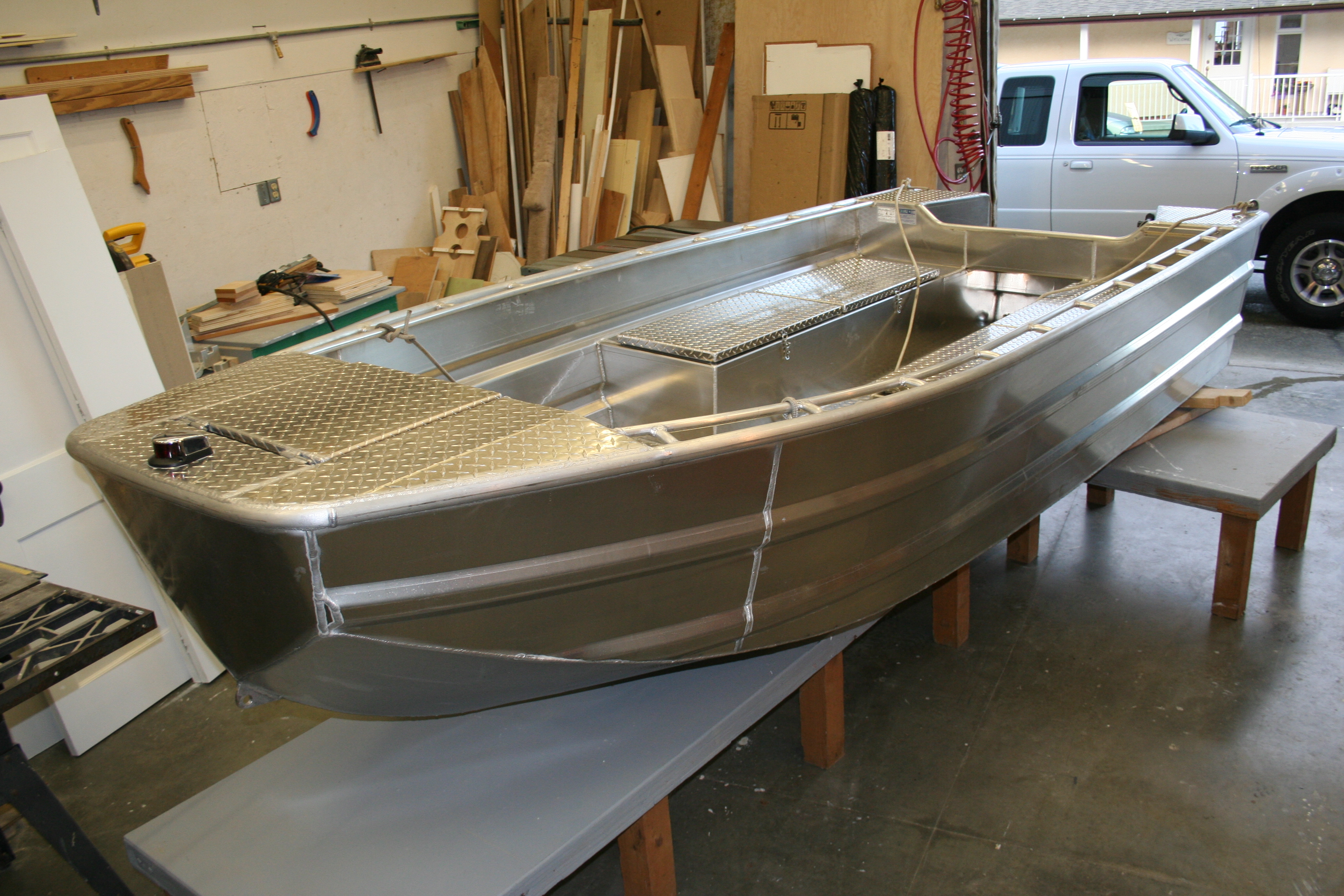 A custom-designed aluminum workboat was added to Coastal Messenger that same year. It could be quickly launched from its cradle on the deck and used to get around from the "mother ship." It also served as the ship's lifeboat if ever required.

Base renovations that year significantly improved spaces upstairs. Local contractor Al Liimatta literally raised the roof. Each year, Coastal Messenger continued its approximately 3,400 nautical-mile circuits. That represents reaching out to hundreds of people and also a lot of travel.

Certain progressions were noted in the passing years of Coastal Missions. The thrust of ministry had changed from first meeting people to solid friendships that had carried on to a second, third, and even fourth generation. Endeavours had naturally moved much more toward follow-up. Get-well, birthday, and anniversary cards had continued growing to become a huge behind-the-scene part of the work. Most cards were made using Coastal Missions' own photos.
The year 2010 was the Society's 30th year. A big and beautiful picnic on September 5 included more than 300 guests to help celebrate it. Another
celebration of sorts was that Base renovations were declared complete.

Coastal Messenger was always maintained in top condition. In 2011, water tanks, having entry covers to get inside, were sandblasted and recoated. The ship was also outfitted with AIS (Automatic Identification System—an electronic tracking system that identifies and calculates the movement of other vessels).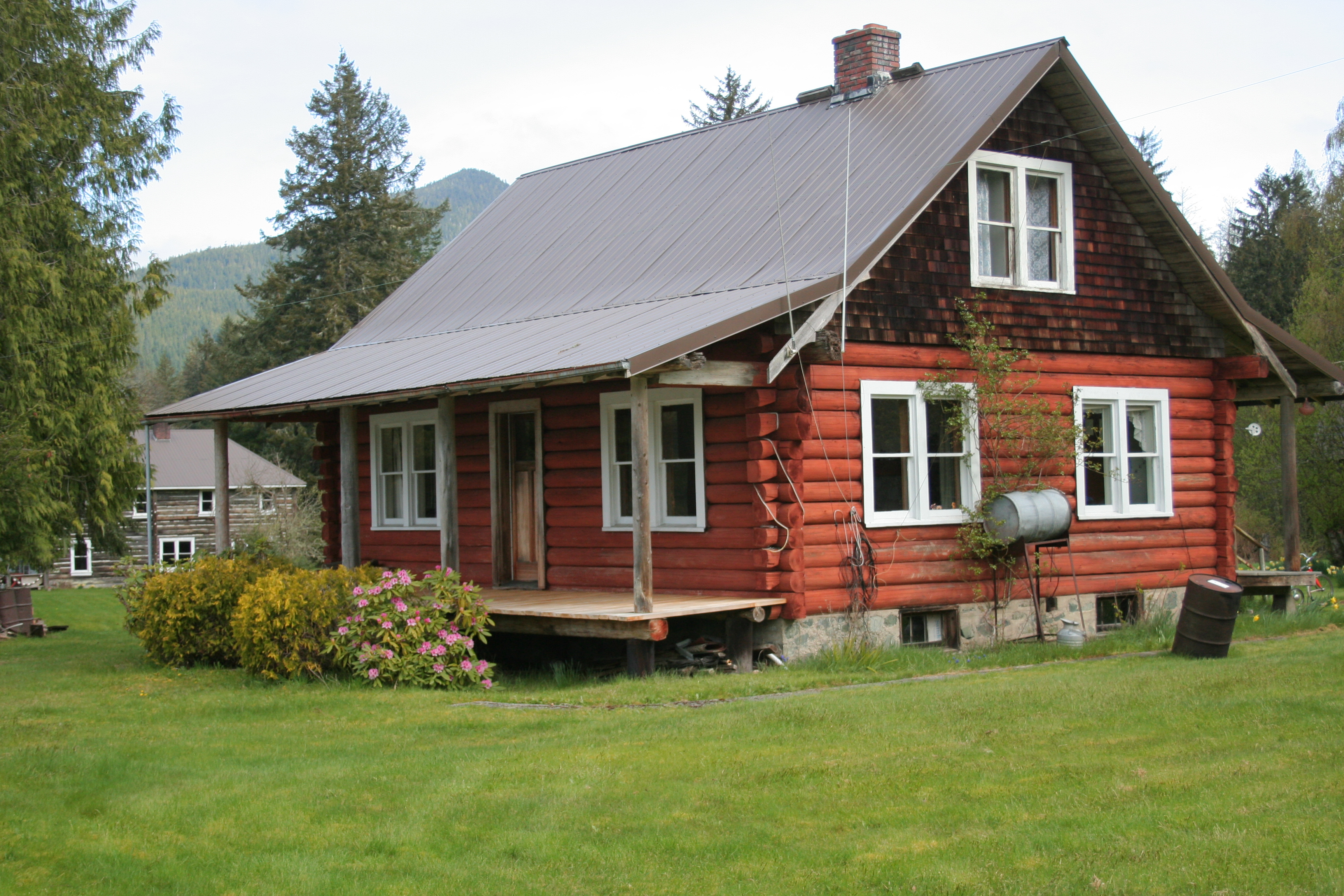 Coastal Missions leased Port Neville for five years, beginning in 2012. This is a well-known and secure haven along the Inside Passage. Word soon got out that Coastal Missions offered good hospitality. Many commercial and pleasure boats stopped while northbound and again on the return. Such visits, of course, make way for advancing the Gospel. One visiting sailboat, a most unobtrusive craft from Sweden, stopped in on its second worldwide voyage!  

Different workers were stationed there at various times. But in those five years, Chet and Teresa became the ones most closely associated.

The Base became especially busy with visitors after doctors diagnosed Gloria with cancer in January 2013. She passed away on April 10. She was happily herself to the end, even planning groceries to go aboard Coastal Messenger the day before she died. More than four hundred persons were in attendance at the celebration of her life in June. Many called it "the best church service ever."

Chapter One
Chapter Three
Conclusion