Coastal Missions Society
Vessel Construction from 1994 to 1998
1994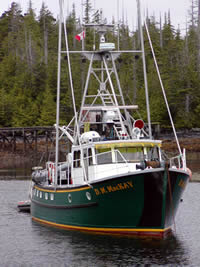 Coastal Missions painted the wooden Coastal Messenger jade green and named her back to her original D. M. MacKay.  She was sold August 17.  The mission retained the name "Coastal Messenger" for the new steel vessel. By then, Roy Getman completed the new vessel design.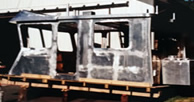 Brian Burkholder and Vic Hookins went to Calgary, Alberta to assist fabrication of the aluminum pilothouse at Joshua Enterprise. The pilothouse arrived by flatbed truck at the Coastal Missions shop December 20.
1995
Roy Getman ordered steel and Jenkins Marine Ltd. began construction of the hull in Victoria, British Columbia in January. Roy also placed orders for doors, windows, hatches, and port lights from suppliers in Mukilteo, Washington and Gold Beach, Oregon.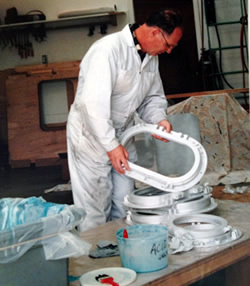 Meanwhile various constructions from the blueprints continued in Coastal Missions' own shop. Missionaries tested engine and reduction gear on the shop floor along with various pieces of hydraulic equipment.
Jim Fullerton, a retired pattern maker, began making a ship's wheel in his own shop in Duncan, British Columbia.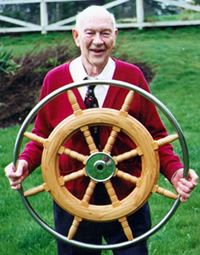 1996
A flatbed truck transported the pilothouse from Chemainus to Victoria, where workers joined it to the hull. By the end of the year, workers had finished all steel fabrication and the aluminum four-legged mast. Gray protective coatings gave the vessel a "government" look.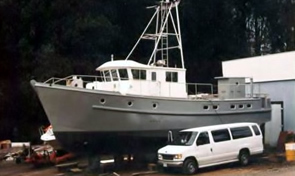 Missionaries made extra effort to keep in contact with friends on the coast. But it also worked the other way.  Many reasoned, "You've always come to visit us, now that you are building a new boat, it's our turn to come and visit you."
Coastal Missions received nearly 300 cards and letters during the Christmas season. There were many speaking and other engagements.
1997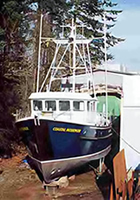 Vessel construction details continued all through 1997. Projects in March included installing the propulsion engine, AC generator, and batteries. Workers insulated, paneled, painted and fitted all compartments by the year's end. Workers also completed all cosmetic painting in September. The vessel's Certificate of Registry arrived before Christmas. Coastal Missions held two Open Boat receptions right where the vessel sat straight and level on blocks.
Missionaries wrote many letters.  Postage amounted to $3590 for the year. Coastal Missions conducted or attended church services, Sunday school gatherings, ladies' meetings, meetings at care homes, funeral services, weddings, and anniversary celebrations.
1998
Besides working hard to complete all new vessel details, there were engagements of every sort, including more than 40 funerals. Visitors came from as far away as England, Holland, and Japan. A family even came by sailboat from Californai to visit.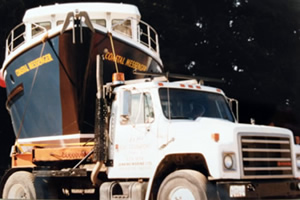 By the middle of the summer the new Coastal Messenger was nearly complete yet construction stopped for need of money. Then in August, a big donation came.  Construction finished and the ship launched September 10.  The survey for ship's insurance noted "no deficiencies," almost unheard of in marine surveys.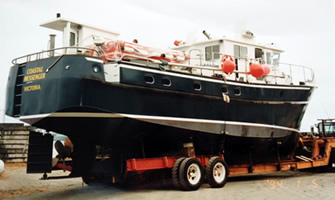 Read more of the Coastal Missions story:
1930's-1979 Foundation
1980-1993 Wooden Vessel Years
1999-today Steel Vessel Years