Coastal Missions Society
Steel Vessel Years - 1999 to today
1999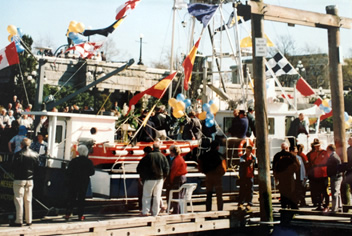 The newly constructed Coastal Messenger left home port January 13. Systems had been thoroughly checked during trial runs after launching in late 1998 but this time they were doubly checked by actual use and by harsh and continual storms. The ship returned to Chemainus February 26 and left again near the end of March. She went first to Vancouver then to Victoria for a special commissioning service on April 3.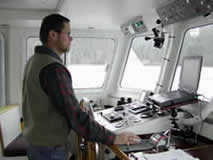 Not all was "smooth" sailing in 1999. Failure of an electronic component in the autopilot detained the vessel a few days in Puget Sound in January. Relentless winds at Cape Chacon forced a change in scheduling during the Alaska voyage. Fierce winds forced another alteration from the schedule during the Queen Charlotte Islands voyage. Failure of a part in the fuel pump in the Coastal Messenger's engine in October forced landing at a private lodge on the BC coast during the fall voyage. Understanding staff at the lodge provided free air flight for the needed part. The problem was then fixed in 45 minutes.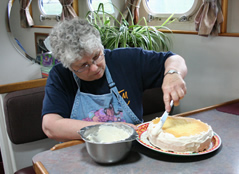 The Coastal Messenger was out and away from homeport 260 days. She traveled 3,850 nautical miles (4,433 statute miles)(7,134 kilometers). 1922 persons signed the vessel's guest book.
Meanwhile the mission base got a new roof.  No more buckets under water leaks. Storms caused serious erosion of the beachfront so Coastal Missions hired a machine to do the repair.
Office staff kept pace with ongoing business. Hundreds of cards and letters went out.
2000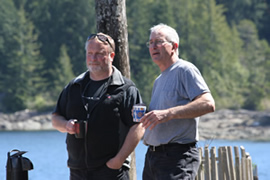 The new steel Coastal Messenger began its second circuit on January 12 and completed it on December 9 logging 264 days away from homeport. She traveled down to Olympia, Washington and as far north as Point Baker, Alaska. She overnighted in 212 places.
Funds were low from March until the beginning of August. The Lord abundantly blessed throughout the remainder of the year. So blessed, in fact, that Coastal Missions purchased two new computers for the office, a new propane heater for the base, a new utility trailer, and a 1997 Ford Escort to replace an old Subaru.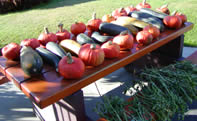 Ministry continued at the base. There were visitors from far and wide. Hospitality is important to Coastal Missions. Cost per individual meal for the base or vessel in 2000 was $2.05! The figure is low because of growing a large garden and the enormous effort put into canning, preserving, and freezing the produce. Friends of the mission also gave generously from the abundance of their produce.
2001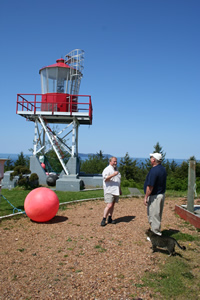 The Coastal Messenger's regular schedule was interrupted briefly at the time of the September 11 terrorist attacks and again just before Ron McKee died in October.
The Coastal Messenger was moored in Prince Rupert while Brian and Anne Burkholder used a vehicle to visit people some distance inland. Tom and Debbie Maxie visited by ferry and used a vehicle in the Queen Charlotte Islands during this time. This "by land" approach allowed contact with ones who in some cases had not been visited for a long time. It also maximized visits over vast distances in a relatively short time.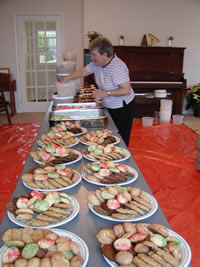 Coastal Missions streamlined the office. Six computer stations were set up and linked. Rachel Getman became a bona fide part of the staff.
Renovations continued at the base along with all other things normal to the year's work and ministry.
Cookie plates went out as usual to dozens of businesses before the Coastal Missions' year culminated on December 19.
2002
The Coastal Messenger did not go into Washington in mid-January as in previous years because of uncertainties associated with the terrorist attacks made against the United States. Rather, she proceeded to Victoria January 22 and was used, in conjunction with a vehicle, as a platform for ministry over the next weeks. Haul-out for usual maintence occurred March 25 at Esquimalt.  Otherwise, the ship carried on through the year and finished December 7.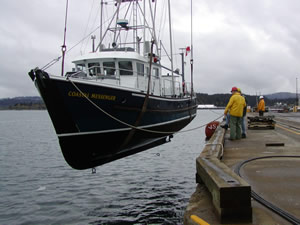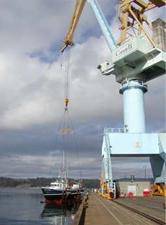 Land teams went out to the north and south as far as Coos Bay, Oregon, during the early months of 2002.  
Renovations continued at the base. Contractors and mission workers completed the new kitchen and dining area. A useful porch was added to the west side of the building.
Coastal Missions received the gift of a Nissan Centra in February and sold the old 1980 Ford van. It was on its second paint job, second engine, and the odometer had gone around three or four times.
2003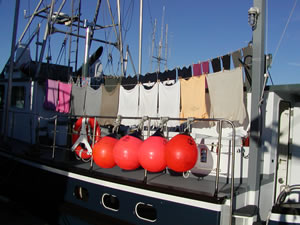 The mission vessel Coastal Messenger carried on from January to December out and away from home port 253 days and traveled more than 3,500 nautical miles (4,000 statute miles)(6,500 kilometers). Workers fitted the utility skiff with a new 20 hp Honda outboard in April.
Most weather in 2003 was gentle thus making travels easy. But not all. During part of October, the barometer yo-yoed up and down.  Winds were sometimes at storm and hurricane force. Rains were torrential. Tides and currents were thrown off predicted tables. Masses of needles, leaves, limbs and whole trees choked some channels in the aftermath of tremendous flooding in rivers and streams.
Base renovation projects continued in May, June, and July. Contractors redid a downstairs bedroom and bathroom and moved a staircase. Gardens at the base were especially fruitful in spite of little rainfall on lower Vancouver Island during the summer and early autumn.
2004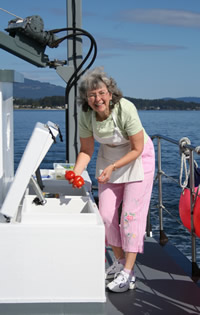 Missionary endeavors continued as scheduled. The Coastal Messenger tied to a float 153 times, to another boat 17 times, anchored 60 times, and stopped for fuel more than a dozen times. There were shifts to a different berth or anchorage 47 times. Missionaries often used the utility skiff for transportation after they moored or anchored the ship.
Meanwhile, at the mission base there were many visitors—whole groups of visitors in some cases. Missionaries kept base grounds beautifully. Vegetable gardens were plentiful in spite of hot weather and a long dry spell. Produce was eaten fresh, some was frozen, and much was canned as in former years.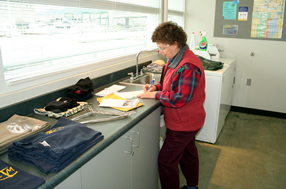 Directors approved purchase of 5,000 Compass edition New Life Bibles on October 29.
Mail always plays a great part in the on-going ministry of Coastal Missions—letters, cards, follow-up letters and acknowledgement letters went to individuals, churches, and groups. Postage for 2004 was $4,141.07. Letters are even written while waiting for laundry at the laundromat.
2005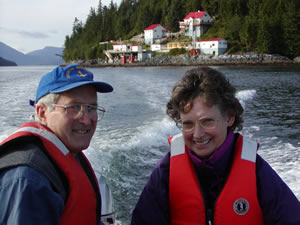 Coastal Missions celebrated its 25th Anniversary in a variety of ways. In January missionaries held a special Open House at the mission base in Chemainus. In April, Coastal Missions hosted more than 200 persons at a weekend anniversary celebration at Camp Imadene. In April and May, more than five hundred people visited the Coastal Messenger during Open Boats in four different ports. The ship then re-enacted the circuit taken by the first Coastal Messenger twenty-five years before in 1980.
Missionaries made many land trips using vehicles as part of the re-enactment of 1980.  One trip extended all the way down to Coos Bay, Oregon. There were special gatherings with potluck dinners in Port McNeill, Ketchikan, Prince Rupert, and Bamfield.
Coastal Missions gave away countless copies of The Compass New Life Bible as part of the 25th Anniversary year.
2006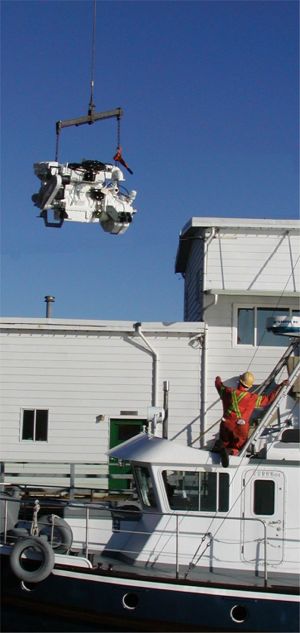 The Coastal Messenger's enduring 1958 Rolls Royce marine diesel retired January 18 because it had metal filings in the lubrication filters after the 2005 voyages. After 27 years in the old boat and 7 in the new one, it did not owe the mission anything. Coastal Missions retired the old engine in running condition to the Blackstaffe Heritage Museum in Ladysmith, British Columbia.
The Coastal Messenger received a new gleaming white John Deere marine diesel model 6081AFMK300 with a ZF W325 gear on February 15. Repowering and sea trials completed, the vessel left Chemainus May 27.
There was snow, horrendous winds and terrible rains in November and December but missionary visits were exceptionally good and the vessel and her crews were always safe.
By the end of December, the GPS odometer showed that the ship had so far traveled a total of 26,578 nautical miles in its eight seasons (30,600 statute miles)(49,244 kilometers). This is roughly equal to one and a quarter times around the globe.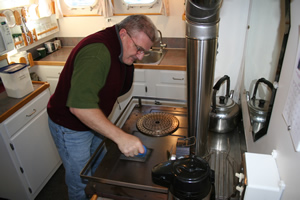 2007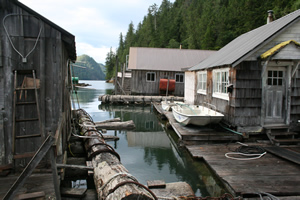 The Coastal Messenger left Chemainus January 13 and was out and away 260 days. The vessel odometer passed the 30,000 nautical mile mark. Sea time records showed an average of 121 days at sea for each missionary. 674 visitors had refreshments, 363 had meals aboard.  At least 115 cookie plates were given to fishermen, fuel dock employees, harbor managers and marina operators. Dozens of loaves of bread and several hundred jars of jams were given. No record was kept of the many Bibles given out.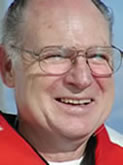 The Coastal Messenger broke ice getting into Oak Harbor in January.  Dense fog prevented departure from Tacoma in February and hurricane force winds resulted in a delay in November. Both crews noticed that significant visits occur when the vessel is thrown off schedule. Such was the case during the fall Inlets North voyage when Roy Getman underwent extensive medical tests and observation in Port McNeill. Many who the crew normally visited during this time came and visited Uncle Roy in Port McNeill. This was by far the longest the vessel ever stayed in one place with a crew aboard.
The Coastal Missions base was a hub of activity as usual. Canning of salmon, tuna, chicken, beef and all sorts of things from a productive garden continued nearly every working day in August and early September. Corn and many other things were vacuum-sealed and frozen. One grape vine alone yielded 76 quarts of purple juice.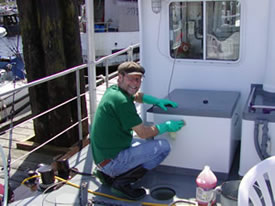 Many volunteers added to the blessing. One lady with the help of family, continued to provide gift jams for the vessel as she has done for more than 25 years.
The Victoria Times Colonist newspaper carried a well-written article by Darryl Ohs that included a photo of a model of the Coastal Messenger. That model, built by Doug Allen of Cobble Hill, BC, won first prize in the Workboat Class as well as first prize as the Modelers' Choice at the Mid-Vancouver Island Marine Modelers boat show in Nanaimo, March 17.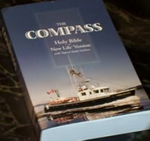 Other Board business included approval for the printing of another 5,000 Compass Bibles since most of the 5,000 ordered in 2004 had been given out.
Missionaries baked thousands of cookies nearing Christmas and delivered 145 gift plates to businesses used during the year.
2008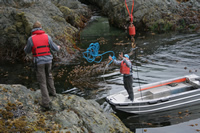 The Coastal Messenger circuit year started January 15 and ended November 19. The new aluminum work skiff, designed by Roy Getman, took its place on deck in April increasing crew safety in terms of a lifeboat, and increasing dynamics in terms of getting around from the mother ship.
Roy Getman underwent ablation therapy to correct an unsteady heartbeat. The procedure gave him a dramatic increase in vitality.
Renovations at the mission base greatly improved spaces upstairs. The office also had a makeover. Missionaries manufactured many of the furnishings in Coastal Missions' own shop thanks to the cabinetry skills of Chet McArthur.
2009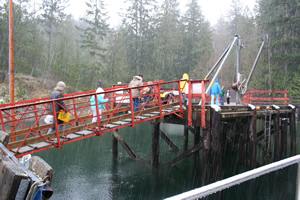 The Coastal Messenger held to its schedule in spite of seeming endless storms in November. It was obvious that many prayed and the Lord answered.
Through the year missionaries signed and mailed birthday and anniversary cards, along with dozens of get well and sympathy cards. Missionaries made most cards with Coastal Missions' own photos.
Renovations continued at the base and after ten years, little by little, by the end of the year even the light fixtures were in.
2010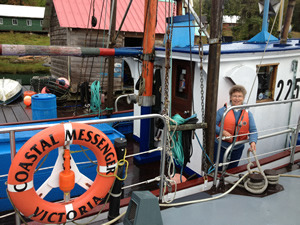 Missionary voyaging began January 15 and ended November 20 in snow. The Coastal Messenger was out and away from home port 250 days. Ship's GPS odometer passed the 39,000 nautical mile mark on October 7.
As usual, voyages extended south to Olympia, Washington and north to Sumner Strait, Alaska and included places on the west coast of Prince of Wales Island, west coast of Vancouver Island, Haida Gwaii, the mainland British Columbia coast and inside Vancouver Island.
Coastal Missions celebrated 30 years. A big and beautiful picnic on September 5 included more than 300 guests.
2011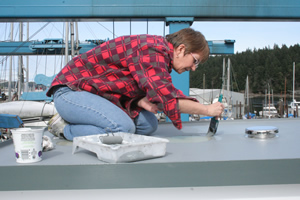 Yearly maintenance of the Coastal Messenger was routine except for the added hands of those in training. Water tanks needed sandblasting and recoating after 12 years of service. Roy Getman upgraded the ship with AIS, a system making it possible to see and be seen electronically by other vessels fitted with AIS.
The ship's GPS odometer showed a reading of 42,078 nautical miles when voyaging concluded November 19.
2012
Ministry with the Coastal Messenger was as big as ever. The earthquake October 27 had no effect on the vessel. She was then inside Vancouver Island. Missionaries at Port Neville felt the quake, quite dramatic in fact but no tsunami there.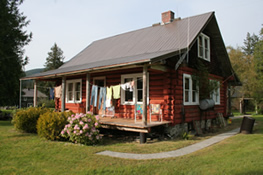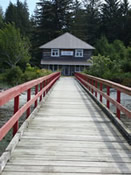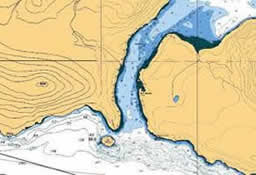 Coastal Missions started the lease of Port Neville, a well-known and secure haven along the Inside Passage. One visiting sailboat, a most unobtrusive craft from Sweden, was on its second voyage around the world! The owner said it had more than 200,000 nautical miles past its keel.
2013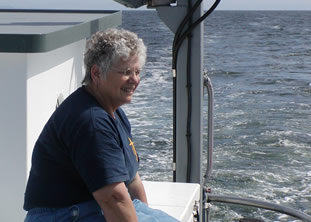 Doctors diagnosed Gloria Troll with cancer on January 10.  The base was especially busy with visitors to her bedside. Gloria passed away on April 10.  She was herself to the end, even planning groceries to go aboard the Coastal Messenger the day before she died. Her celebration of life in June had over 400 people in attendance—many called it "the best church service ever."
All aspects of ministry were as full as ever. The Coastal Messenger was in active missionary service 266 days away from home port. Missionaries maintained a Christian witness at Port Neville through the year.
2014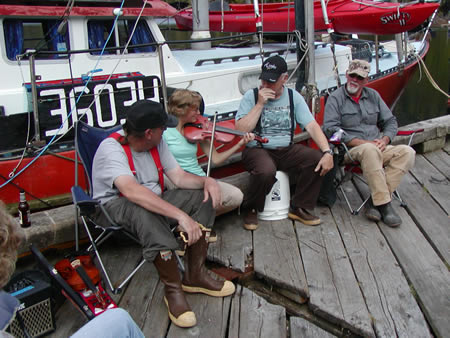 The Coastal Messenger powered up on January 10 and left Chemainus January 14.  All continued as scheduled.  The ship completed its circuit December 8.  The "new" steel vessel surpassed 51,000 nautical miles travel in its 15 years of missionary endeavor.  Its cruising speed is like a fish boat of that size, about 8 knots.  To get an idea of distance, it is roughly 660 nautical miles from Seattle to Ketchikan.
Word is fully out that Coastal Missions' hospitality at Port Neville is good.  Many commercial and pleasure boats travelling the coast stopped while northbound and again on the return.  Such visits, of course, proved a way for the Gospel.
2015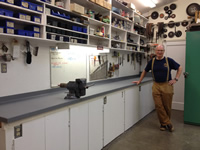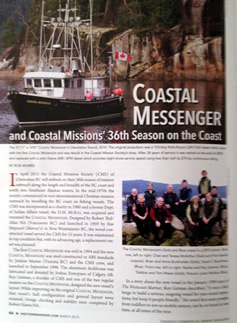 The Coastal Missions year began with a big clean-out of Base, shop, and office - "to be ready for the next 35 years of ministry." In celebration of the 35th Anniversary, the Coastal Messenger schedule was a special edition desktop calendar.
The Western Mariner also ran an article on the Coastal Messenger in the March magazine and included the complete 2015 schedule.
The Coastal Messenger spent 235 days visiting 107 ports of call. 10 missionaries worked fulltime, hundreds of cups of coffee and conversations, countless lives touched. 47 days of routine spring maintenance kept the Coastal Messenger in excellent condition.
2016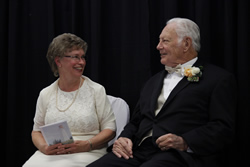 Petunia (Joan McKee) married Frank Getman officially on November 6, 2015 in Arizona. However, the big celebration happened in Duncan, BC on April 2, 2016. The celebration was like a coastal reunion with a few hundred friends from near and far. After a short honey moon, the couple settled in at mission base. Frank received his Canadian permanent residency in December, a nice Christmas gift.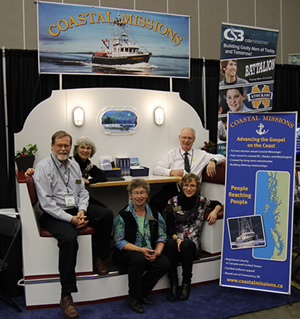 Roy Getman designed a portable galley display. With Brian Burkholder and Tom Maxie's building and painting skills, it quickly looked as cozy as the galley on the Coastal Messenger. Missionaries took the display to Missions Fest Vancouver and Missions Fest Seattle, along with other churches and speaking engagements.
Four Bible study weeks were held at the mission base in Chemainus. During the cooler months, the sessions took place in the shop. In warmer months Bible teaching happened on the front lawn.
Read more of the Coastal Missions story:
1930's-1979 Foundation
1980-1993 Wooden Vessel Years
1994-1998 Vessel Construction